Uchronia, escapade in an offbeat design universe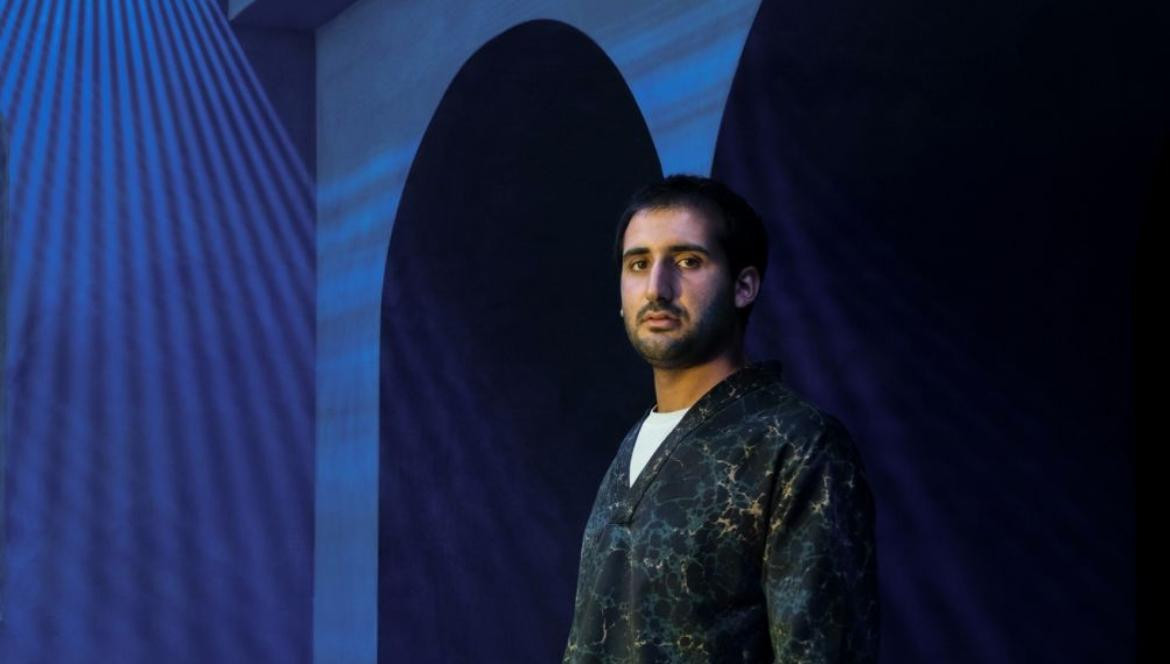 Uchronia is a multidisciplinary collective dedicated to interior architecture. The name refers to the fictitious time and the ephemeral value of everything. Founded by Julien Sebban, Uchronia wishes to break free from the ordinary rules around design and architecture. This creative studio creates above all modern "places of experience" where the imagination takes over. At Uchronia, creativity is at its peak.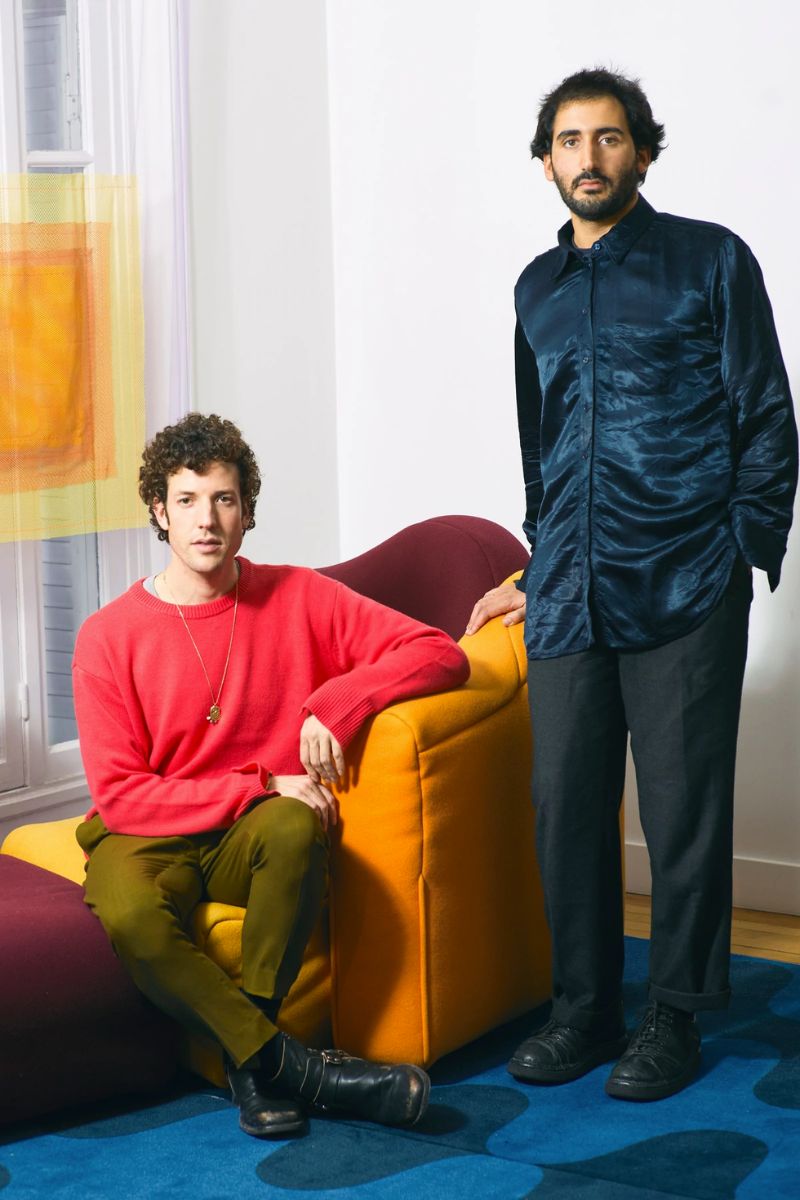 © Uchronia
For Uchronia, being an interior designer is not just about transforming places. It's about giving them a whole new visual and artistic identity. This Parisian studio breathes soul into each of its projects. More than just renovations, the collective creates real places that breathe life.
Whether it's the Onii-San restaurant, Café Uchronia, private residences at the Trocadero, clubs like Manko, or fashion shows for Sonia Rykiel and Nina Ricci, Uchronia designs charming spaces with a distinctive contemporary style. Julien Sebban brings a pop and retro touch to all his projects.
Uchronia for Julien Sebban's residence, office and showroom in the 18th arrondissement of Paris: colorful renovation of a Haussmannian apartment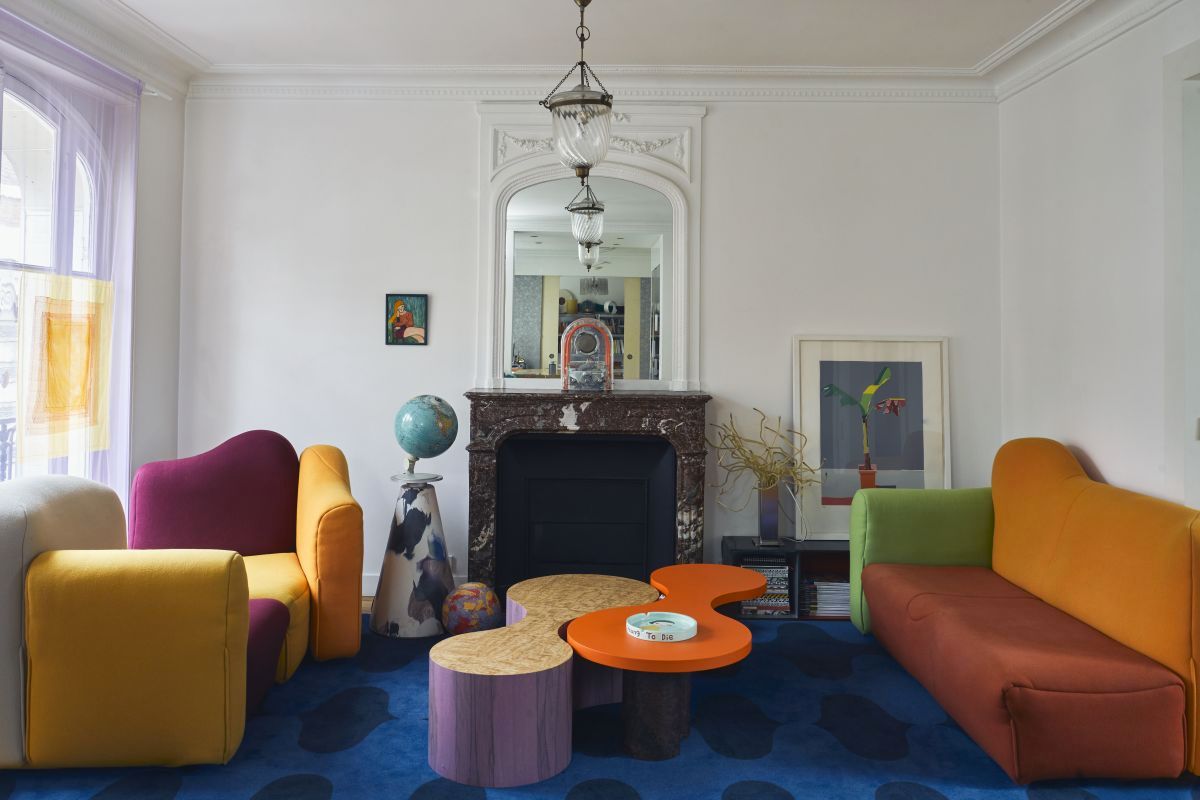 © Uchronia
The Uchronia studio completely transformed this apartment with classicist moldings and a Haussmann-style fireplace. Exhibiting their "Wave" collection, this living room exudes joviality. By giving it bright colors and rounded shapes with seats reminiscent of the rug's polka dot pattern, Uchronia has changed the aesthetic identity of this residence. The Cannaregio sofas by Gaetano Pesce are completely innovative. The wave, the agency's leitmotif, makes the furniture, Wave coffee tables, undulate with their original and fun curves.
| | |
| --- | --- |
| | |
| © Uchronia | © Uchronia |
The lines of the chairs are organic. They imitate an almost sinister snaking movement. The pop colors make us dream of a festive and joyful elsewhere. Uchronia actually drew its inspiration from the Rio of the 70s and Acapulco.
Uchronia instilled a 70s/80s spirit in this Parisian stay. Ettore Sottsass' Tahiti lamp, with its bright geometric contours, stands out from the rest of the decor. The use of ceramic tableware by Emmanuelle Roule to decorate the tables adds softness to the setting. Finally, the Uchronia furniture, with its festive colors, from lemon yellow to spring green shades, gives a lot of pep to this Parisian apartment.
Uchronia: fun, gourmet and ingenious furniture
Uchronia: The Cookie table, with its wooden legs that let peas show through on the tabletop.
| | |
| --- | --- |
| | |
| © Uchronia | © Uchronia |
Uchronia : The Peanut table, created in collaboration with the famous designer Fabienne L'Hostis.
| | |
| --- | --- |
| | |
| © Uchronia | © Uchronia |
Uchronia: The Sunny 2 chair, the Parisian seat, a fun ode to social distancing.
| | |
| --- | --- |
| | |
| © Uchronia | © Uchronia |
Comments
No comment at this time!
Leave your comment