How to bring the diversity and the exoticism of the Middle East to your interior ?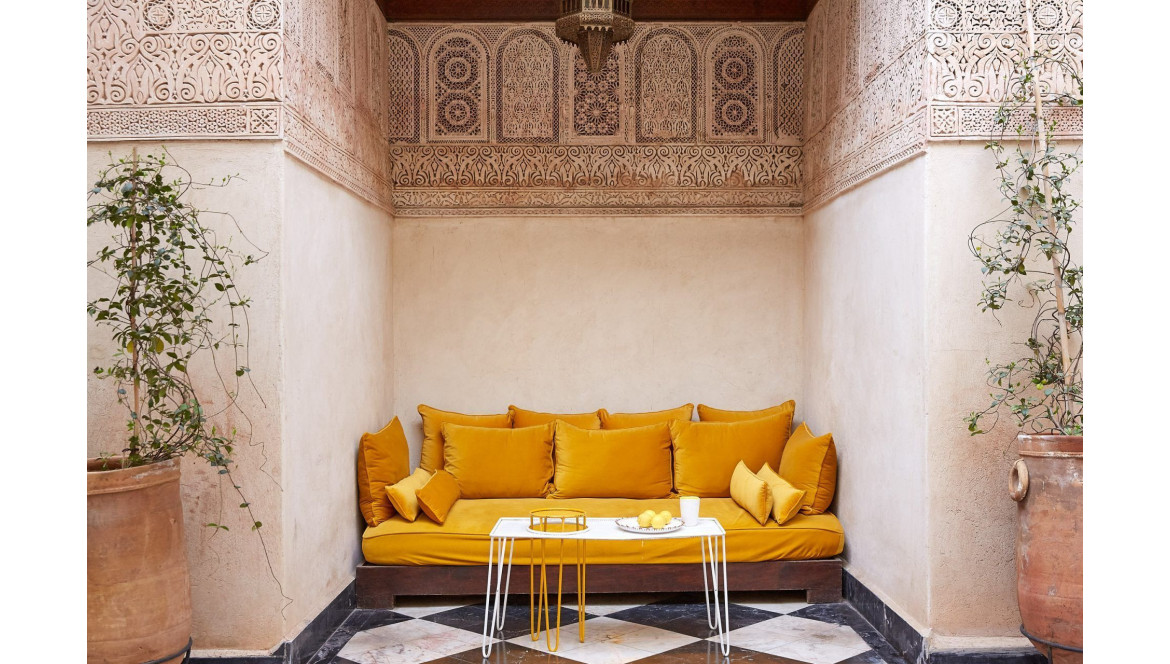 Crossroads of cultures that date back several millennia, the Middle East is a source of fantasies that can fit into your home by taking the form of a decoration with exotic and sumptuous mixes. If you wish to create an atmosphere of magic, luxury and sophistication that reminds us of the civilisational richness of a region with multiple influences, look no further. How can you achieve this so-called "oriental" style, which is result of a mix between the influence of Islamic architecture and the warmth of the Mediterranean? Here are a few must-dos that we shall be deciphering for you.
Geometry and proportions
Above all, there must be a strong presence of geometric figures that remind us of the beauty of Moorish art. Opt for complex and abstract patterns when choosing decorative carpets, mirrors and wall frames: these will bring a touch of exoticism to your floors or walls. These shapes should be visible throughout the entirety of the room: think of a polygonal coffee table, a mosaic-printed screen or hand-painted tableware.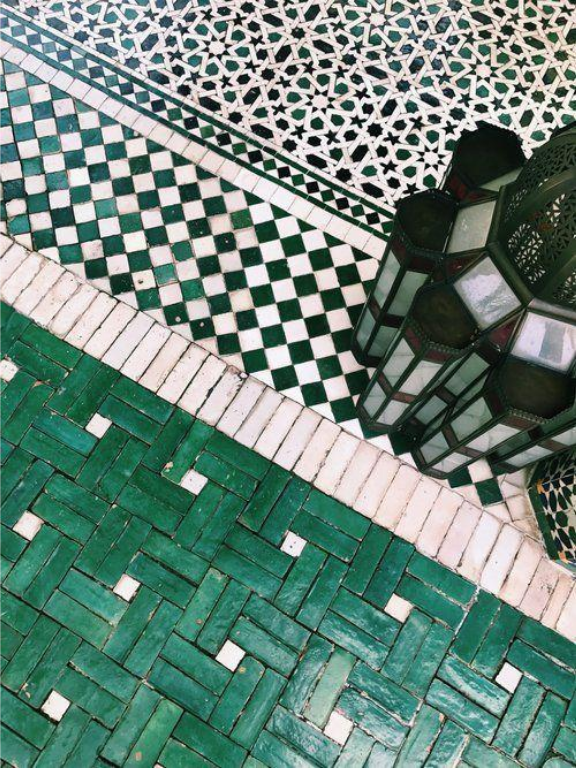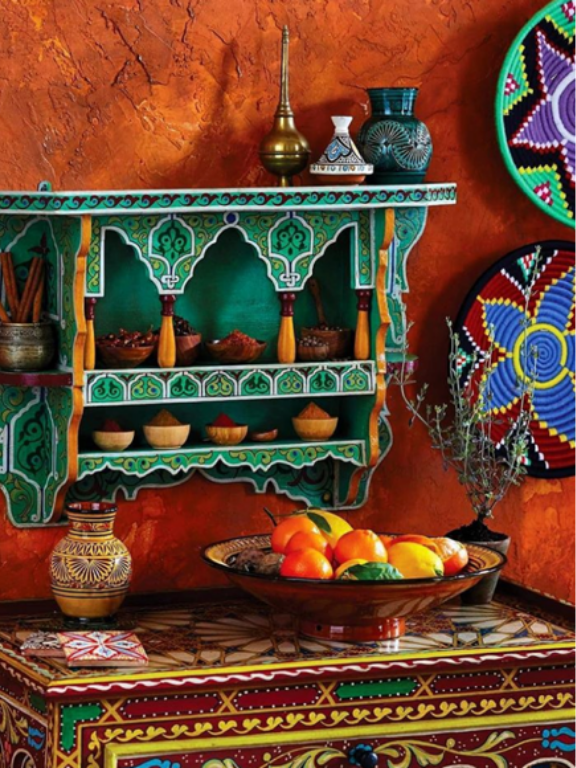 Vivid and majestic shades
The oriental style is also symbolised by a bold choice of colours: think of bright shades, such as Moroccan red and burnt orange. Go bold by opting for an accent wall by using textured wallpaper in order to play on volumes and to give an illusion of space and infinity.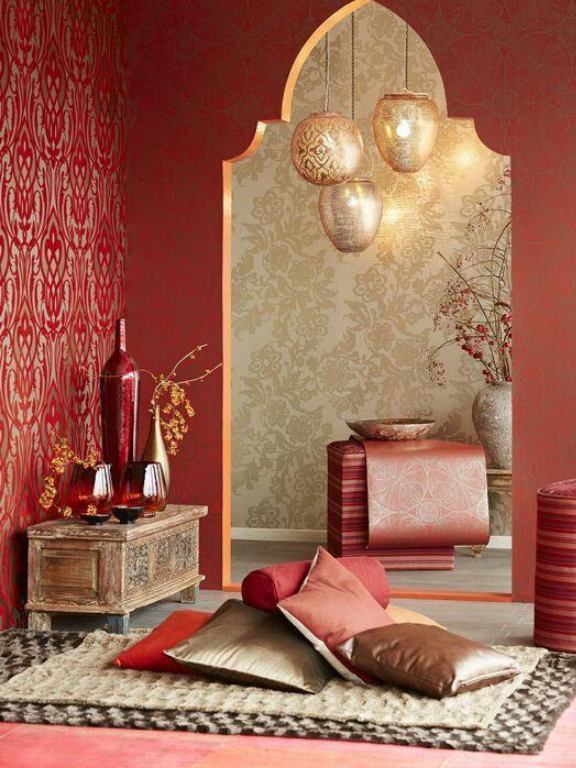 Don't forget that colour isn't just limited to the walls! Golden cushions, a patterned carpet, pink pouffes or a light curtain will make the room lively and dynamic. This thoughtful mix of oranges and reds will remind you of desert sunsets and the softness of the sand, bringing a touch of the Arabian Nights to your interior.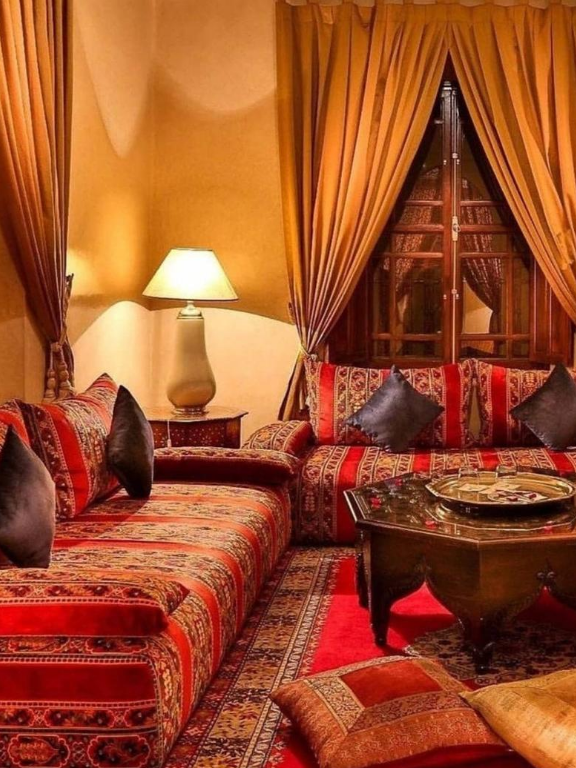 To enhance the feeling of being in a majestic room, oriental-style furniture tends to be quite luxurious. Forget about cotton and wool in order to bring real Arab charm and opulence to your bedroom, living room or dining room by using rich metallic fabrics, embroidered velvet or the very fashionable Handira fabric.
Luminosity and mysticism
The exotic charm also comes through the play of lights. Metal lanterns hanging from the ceiling or placed on the floor or on tables create a soft and mystical atmosphere. The patterns of light and shadow that these lanterns cast around them give each room a certain elegance. Think of Nkuku's Jatani hanging lights, created by using traditional hand welding techniques and that have a textured and slightly crumpled finish that perfectly embodies this exotic spirit.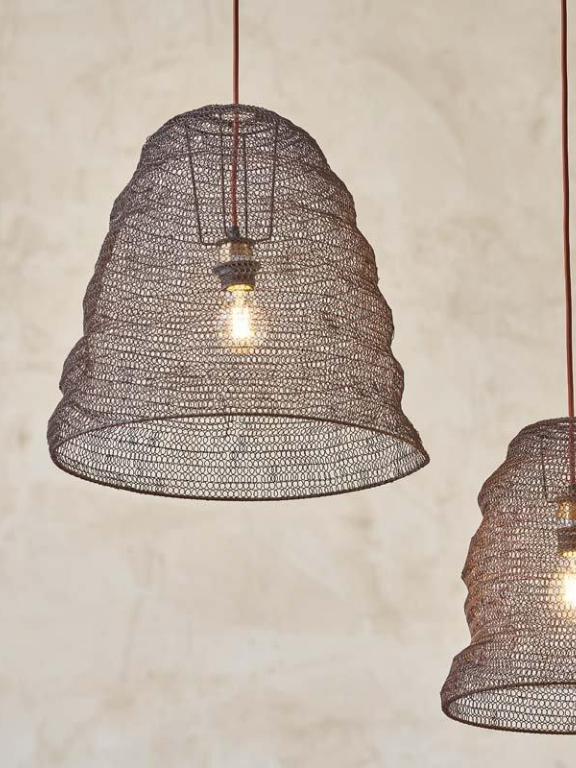 Achieving a Middle Eastern style is synonymous with making your rooms comfortable all the whilst creating a mysterious atmosphere. Thanks to the accumulation of candles and lanterns in copper or wrought iron placed on the floor, you will be able to bring both a touch of intimacy and magic to your room. Perhaps you will come across a genie!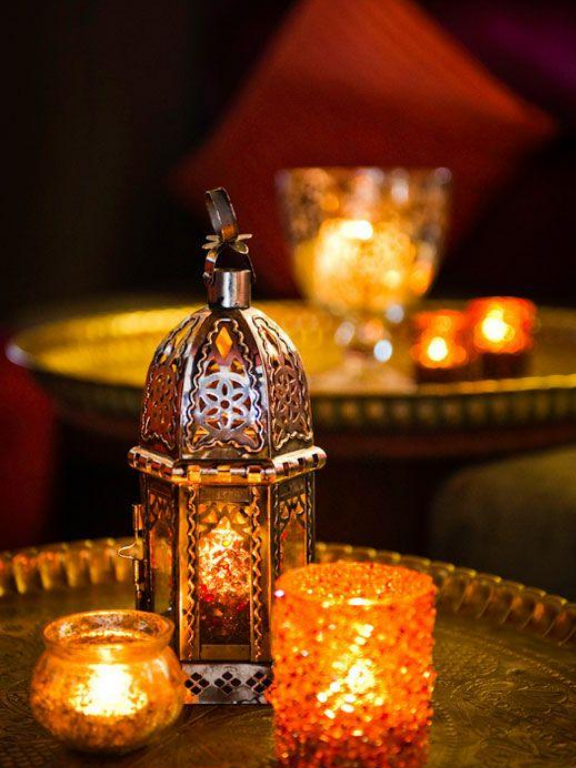 Conviviality and colour in the kitchen
Family is placed at the heart of Arab culture: the importance of gathering in the presence of one's relatives is one of the principles that defines this oriental culture. This reality is particularly evident in the kitchen, where the thoughtful choice of furniture contributes greatly to making this space welcoming. 
It is therefore essential to pay close attention to your table decoration. Around it, multiply the number of stools with earthy tones and made from rustic materials, a smart choice because they are both sturdy and comfortable. Then opt for hand-woven tablecloths and napkins, with different types of embroidery such as cashmere or floral motifs.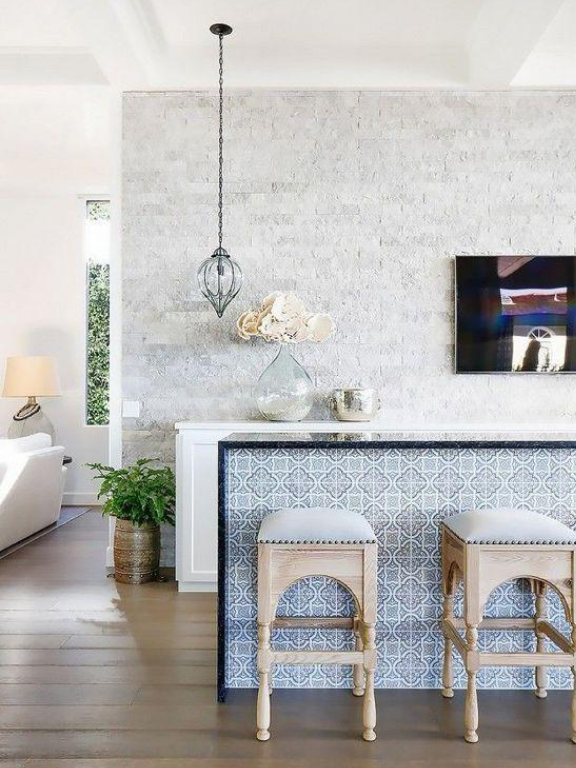 Buy Moroccan cooking utensils such as the tagine, the traditional clay pot or a couscous maker to prepare delicious, varied and exotic meals. Also consider colourful candleholders, metal trays and a full tea set in order to create a jovial atmosphere when you invite your friends and family to have some chai together.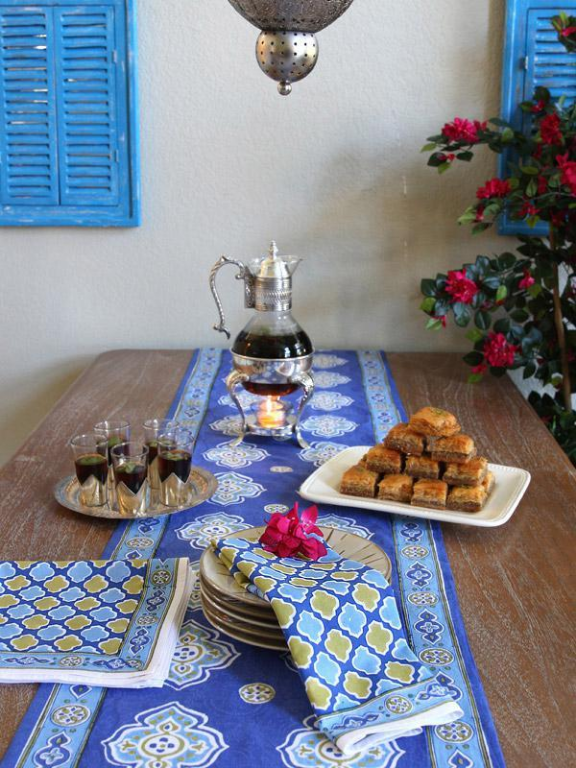 Hammam atmosphere
Want to turn your bathroom into a haven of peace where all the stress you feel seems to disappear? Then stay in the oriental theme by imitating the decor of the famous hammams where relaxation and well-being are at work. Be inspired by the Moroccan coasts off the Mediterranean: tiles in several colours, turquoise towels or terracotta vases pay homage to the sea.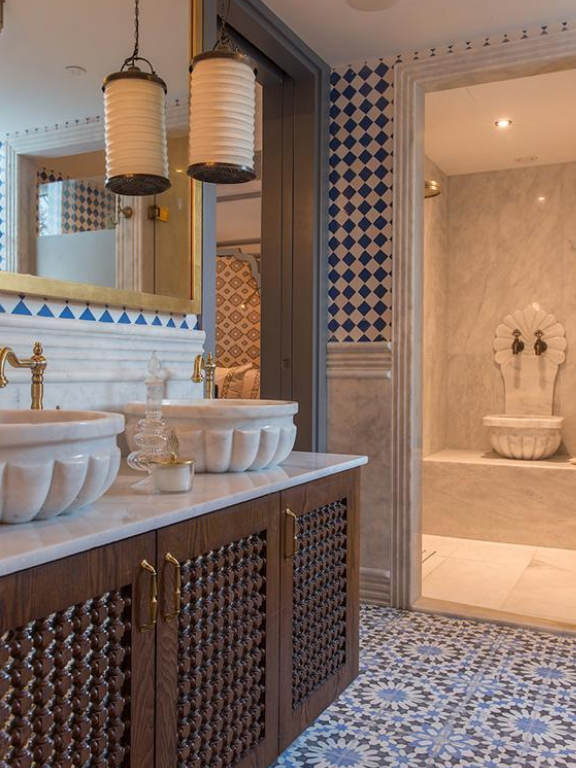 Don't forget that lighting remains important. In order to imitate the warm Mediterranean atmosphere, think of multiplying small mirrors and other reflective surfaces, such as a tray of hammered metal trinkets or a bronze soap dish.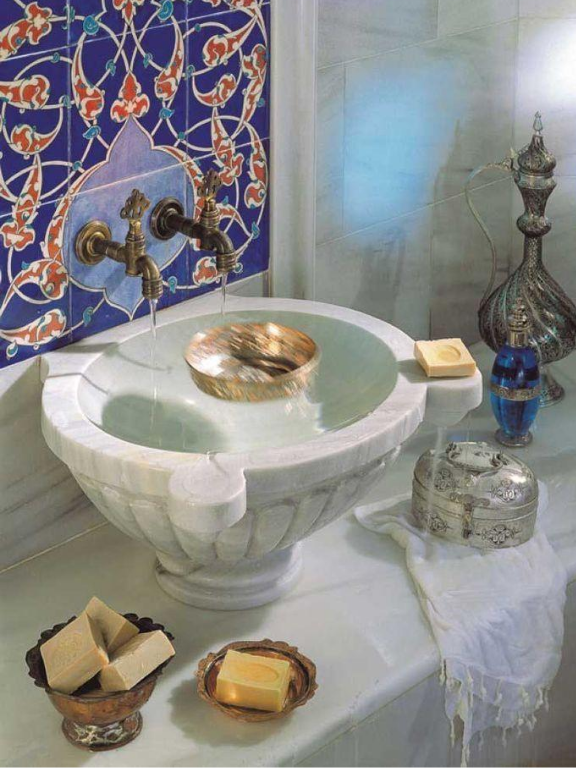 Finally, don't neglect the importance of perfume to add the finishing touch to your bathroom! Choose candles or incense that remind us of ginger, rose water or nutmeg. After all, what's more Middle Eastern than spices?
The ground and the outdoors
The Mediterranean style is synonymous with large living spaces both indoors and outdoors. It is therefore essential to properly decorate your backyard, terrace or balcony which become spaces of conviviality and serenity. It is also essential to think about the relationship with the ground, since in the Middle East, as in many Asian cultures, it is not uncommon to socialize and eat "on the floor". So think about the detailed colours and traditional lines of the Persian style when choosing your rugs and carpets, which remind us of Aladdin.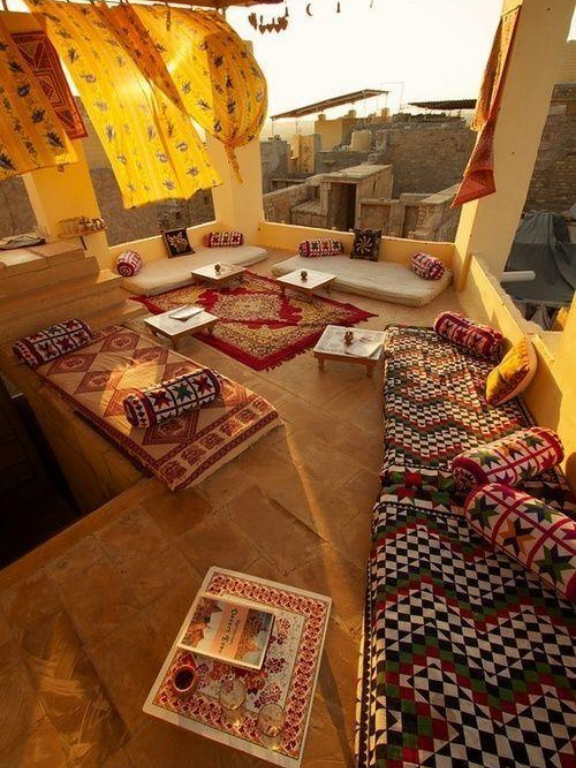 The versatility and exotic beauty of the oriental decor help to brighten up these outdoor rooms: think of Moroccan-style wooden furniture and decorative cushions in different sizes and materials in order to create a comfortable space. Don't hesitate to mix styles, fabrics and colours for your decorative accessories! This eclecticism gives the impression that they are authentic pieces of furniture straight from the bazaar.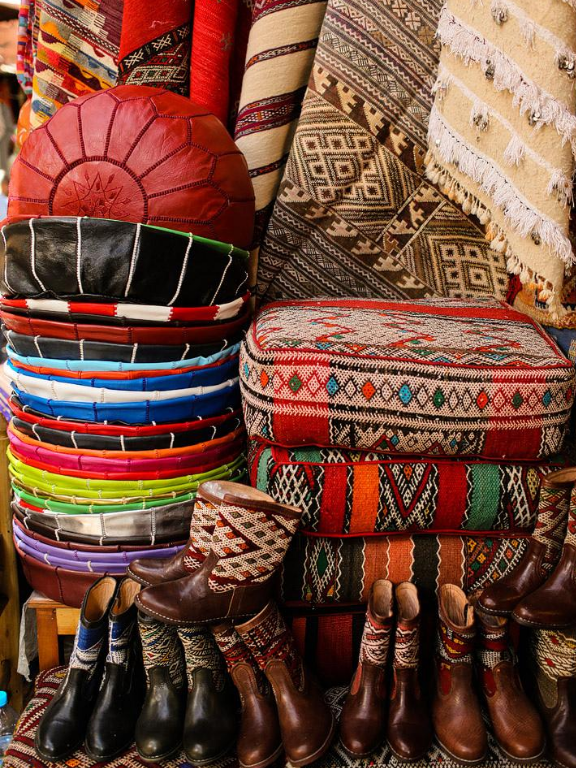 Combining together a rich cultural heritage, warmth and elegance, the Middle Eastern decorative style transforms your interior by bringing exoticism and sophistication to your home.
Comments
No comment at this time!
Leave your comment