Our five tips on how to bring the decor from the Brittany coastline into your home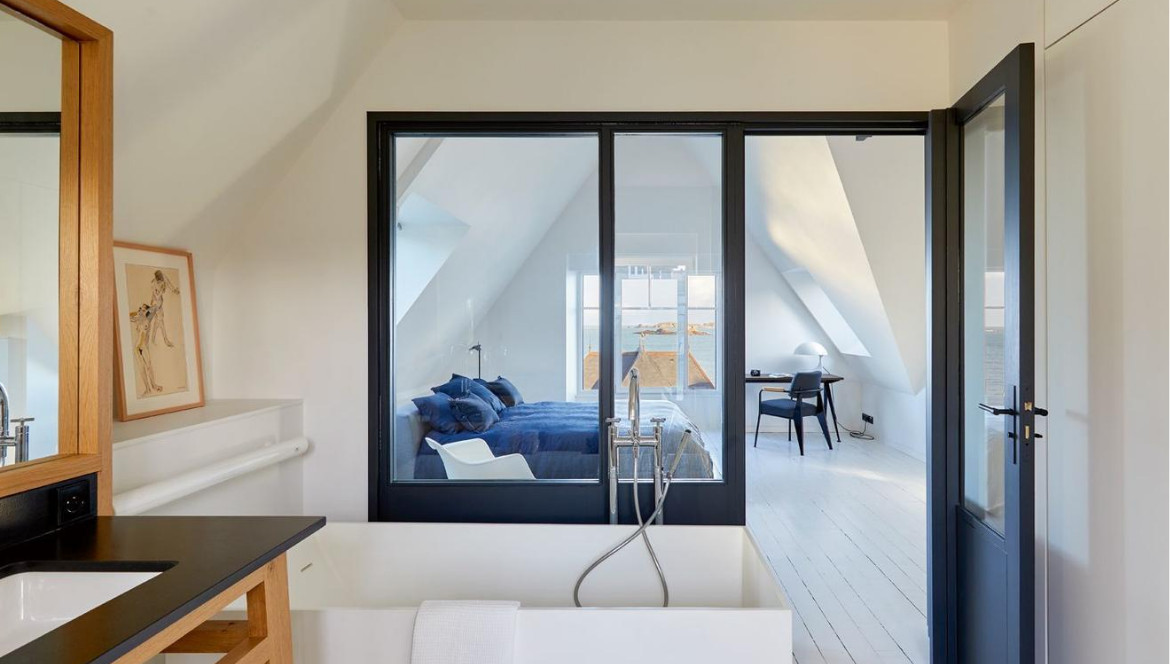 Let's set sail for the Armorican Peninsula in search of inspiration for your home. Make way for the charm of fishermen's houses made out of pink granite, with their slated roofs and blue shutters that remind us so much of the coastline.
The timeless Mariniere
The traditional mix of blue and white remains the motif of a successful seaside decor. Blue and white stripes remind us of the sailor-style jumpers that you could find hanging in your wardrobe – they can also make for a perfect addition to your home! All you have to do is opt for carpets or bed linen with this print.
When looking for decorative accessories, think of replicating objects used on a boat
When trying to bring a touch of the sea to your home, opt for subtleness rather than overbearing prints of marine anchors. In order to do this, draw inspiration from raw materials or recovered items. A rope can be made use of to suspend items from just like a boat oar can serve as a coat rack. With recycled boat sails, you can make cushion covers, a hammock or even revisit the iconic butterfly chair made by the architects of Gruppo Autral. This "Do It Yourself" trend is part of an eco-responsible approach. Brands such as 727saibags are already committed to making customisable and ethical decoration accessories. 
Don't forget about driftwood furniture
Driftwood furniture will bring authenticity to your interior. As a headboard, this natural material is guaranteed to bring you serenity and well-being. Assembled as a ladder that becomes a towel rack, it will also find its place in your bathroom. As a coffee table in the living room, it will bring an elegant and poetic touch to the room. There are so many possibilities in order to create that seaside atmosphere without disrupting your original setups. 
Mix together different fabrics, blankets or cushions whether it be in fine or coarse knits or during summer or winter
Having both linen cushions and a knitted blanket will warm you up on rainy days and allow for a cosy atmosphere. The thermo regulating and insulating properties of linen make it the perfect ally to brave any season.
Blue, white, grey and saline tones
As for your household linen, opt for sober tones such as white or grey or even different shades of blue that are reminiscent of the sea. These accessories, in these soft colours, will dress up your interior and allow for you to relax as if you were really on a seaside holiday.
The Brittany coastline, far from being gloomy, will brighten up your life on a daily basis by giving you a taste of the holidays.
Comments
No comment at this time!
Leave your comment